Shri Prahlad Singh Patel and Shri Shivraj Singh Chouhan inaugurates the 'Maharaja Chhatrasal Convention Centre at Khajuraho today
Shri Prahlad Singh Patel, Minister of State for Tourism and Culture (Independent Charge) and Shri Shivraj Singh Chouhan, Chief Minister of Madhya Pradesh inaugurated the 'Maharaja Chhatrasal Convention Centre at Khajuraho developed under Swadesh Darshan Scheme of Ministry of Tourism in Khajuraho, Madhya Pradesh today. Smt. Usha Thakur, Minister for Tourism and Culture, Madhya Pradesh, Shri Vishnu Dutt Sharma, Member of Parliament, Khajuraho Constituency, Shri Virendra Kumar, Member of Parliament, Tikamgarh, Pushpendra Singh Chandel, Member of Parliament, Hamirpur, Shri Arvind  Singh, Secretary (Tourism), GoI;  Shri  Sheo Shekhar Shukla, Principal Secretary (Tourism & Culture),  Government  of  Madhya Pradesh, Ms. Rupinder Brar, Additional Director General, Ministry of Tourism, GoI and other dignitaries and officials of Government of India and State Government of Madhya Pradesh also graced the occasion. 
Addressing on the occasion Shri Prahlad Singh Patel said that we have to develop the iconic tourism places in various States of India but simultaneously we will have to conserve our ancient old culture also. Central government and state government have to work together to develop these new iconic tourism places so that their maintenance could be properly taken care of. We all will have to realise our responsibility towards our tourism places accordingly. We will help to protect our Lok Sanskriti or traditional culture also. Old structures and monuments have their own scientific sanctity.
The Chief Minister of Madhya Pradesh Shri Shivraj Singh Chauhan assured full cooperation of state government in developing all tourism places in the state with the help of Central Government.  He dwelt upon the various measures taken by State Government in developing many tourist places in this state. He also said that under the able guidance of the Prime Minister Shri Narendra Modi development of many tourism places including of tourism places are undergoing in the state.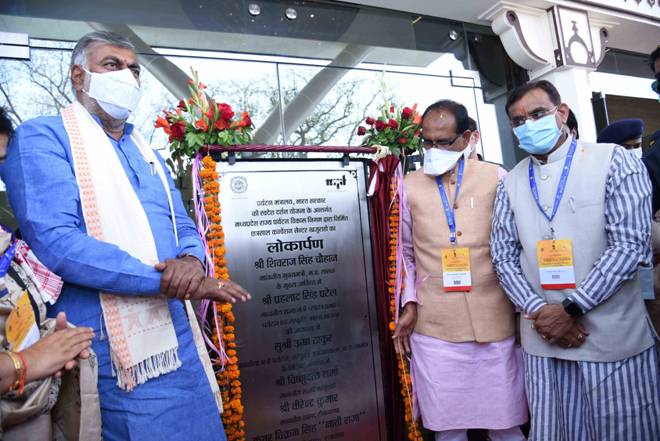 The UNESCO world Heritage site Khajuraho attracts tourists for its mesmerising temples. Adding on more to its features is the convention Centre with brilliant facilities, Named as Maharaja Chhatrasal Convention Centre Khajuraho, this venue will cater to all your business needs. Make your corporate events a great success by hosting meetings, conferences at this convention Centre. Replete with all modern amenities and infrastructure this convention Centre offers a secure space to host corporate banquets for teams both large and small amidst a soothing decor and ambience. Alongside fulfilling your professional commitments you can even take a tour to of the beautiful temples that are world famous for their architecture and history. The whole campus structure and services are designed as per environment friendly building guidelines. High-performance, UV resistant, heat resistant glass is used; energy efficient HVAC system is installed, Energy efficient LED lights are used. The total area of convention hall is 14880 sqft. It can be subdivided into five walls after installation of sliding folding partitions. The city of Khajuraho has a total inventory of 1400 rooms approximately. Being a world heritage site, guides proficient in different foreign languages besides English and Hindi are available.