Controversy over Kejriwal's statement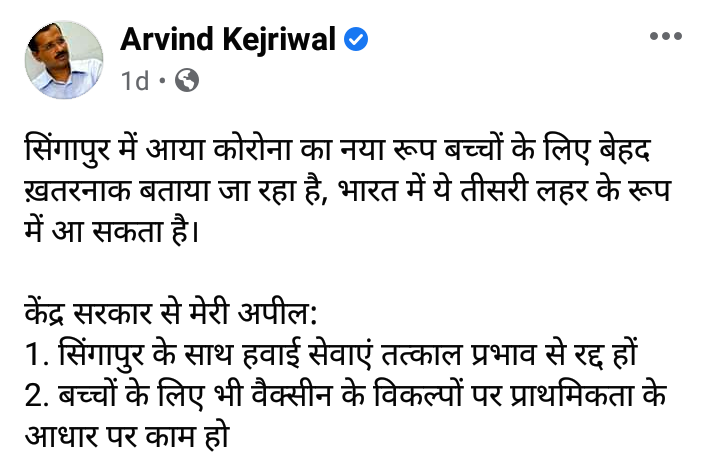 Singapore summoned Indian High Commissioner
Center said- no CM has the right to speak on this
Meanwhile, Delhi Chief Minister Arvind Kejriwal had warned about Corona's 'Singapore Strain' and appealed to the Indian government to take action. This statement by Kejriwal has created a ruckus and the enraged Singapore government has summoned the Indian High Commissioner and has expressed displeasure over the new variant statement. First the Indian government responded to Arvind Kejriwal's allegations and now the Singapore government has also responded with strong objection to this. At the same time, summoning the Indian High Commissioner has expressed his displeasure.

Kejriwal had requested the central government in a tweet that all the air services with Singapore be canceled immediately as a redesign of the Karona virus which has surfaced there is being described as 'very dangerous' for children.
On the other hand, after summoning the Indian High Commissioner, the Foreign Ministry said on Wednesday that the Singapore Government called our High Commissioner today to take strong objection to the Delhi Chief Minister's tweet on the Singapore variant. According to Foreign Ministry spokesman Arindam Bagchi, the High Commissioner made it clear that the Delhi CM does not have the authority to comment on the COVID variant or the civil aviation policy.
On the other hand, External Affairs Minister S Jaishankar praised India's relations with Singapore and said that the Chief Minister of Delhi is not the voice of India. The External Affairs Minister said that Singapore and India have been solid partners in the fight against COVID-19. We appreciate Singapore's role as an oxygen supplier. Deploying military aircraft to help us points to our extraordinary relationship. However, people should know that their irresponsible comments can harm the long-standing partnership, so let me make it clear that the Delhi CM does not have the right to speak on this.