Uttar Pradesh / Agra : Distressed by the terror of borrowing, he gave up food, the victim sat on a dharna by putting up a poster, said – I earn 200 by putting a handcart, the bullies snatch it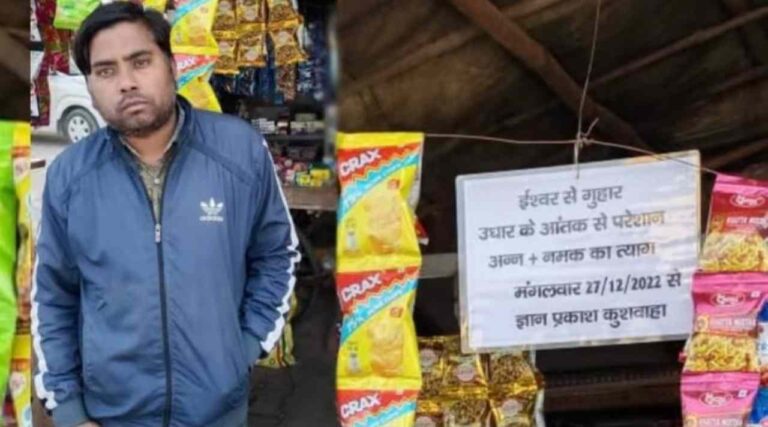 Disturbed by the terror of bullies in Agra's Shahganj police station area, the handcart shopkeeper has appealed to God. Outside the shop, he is sitting on a dharna by writing 'pleading to God, troubled by the terror of debt'. Not only this, he has also given up food. He says that he barely manages to earn Rs 200-250 by running the shop throughout the day. Which is snatched away by some bullies around. They enter the shop and take away the goods. When they refuse, they beat them. The case pertains to Shaheed Petrol Pump located near Pathauli village of Agra-Jaipur Highway in police station area. Here Gyan Prakash Kushwaha, a resident of Jalesar in Etah, sets up a paan-masala stall. On Tuesday, he sat on a dharna outside the shop. They hung the banner of giving up food outside the shop. When people saw, a crowd gathered there. The cart seller is sitting on dharna, this thing has become a topic of discussion in the area.
Forcibly take away goods in the name of loan
On talking, Gyan Prakash told that he lives with his family in Vayu Vihar of Shahganj police station area. To feed the family, he sets up a paan-masala stall on the highway. Told that some domineering people from around enter his shop and forcefully take money out of his piggy bank. In the name of loan, arbitrary goods are taken away.
Did not tell the police because of fear
Told that on demanding money for the goods, they threaten to beat. It is said that if you want to put a cart here, then keep calm, otherwise take the cart and go to another place. Due to the bullying of bullies, the number of customers coming to the shop has decreased. Running the house is becoming difficult due to no sales. Distressed, I had to give up food and salt. Told that due to fear, he did not even complain to the police, but now it has become difficult to live. Will not eat food until the borrowed money is received. Even if I have to give up my life. The police station chief told that the matter is not in cognizance. Action will be taken after investigation.