ITR filing date announced, CBDT told- where, how and till when income tax can be paid
The last date for filing Income Tax Return (ITR) for the financial year 2022-23 for the taxpayers of the country will be 31 July. New assessment year 2023-24 will start from 1st April. Generally, the due date for filing ITR is 31st July. It is expected that this date will also be the last date for filing tax returns this year. Earlier, the government has extended the due dates for ITR filing due to various reasons. However, this year it is expected that the date will not be extended. This is also because the Central Board of Direct Taxes (CBDT) has notified the new ITR form for Assessment Year 2023-24 more than a month in advance. The new ITR forms were notified by the CBDT on February 10 and are available on the Income Tax website.
Penalty will have to be paid for missing
Since the assessment year 2023-24 is starting from 1 April, taxpayers will be able to file returns of income made in the financial year 2023-24 from 1 April. The return filing facility will be available till 31st July, failing which you will have to file a belated ITR.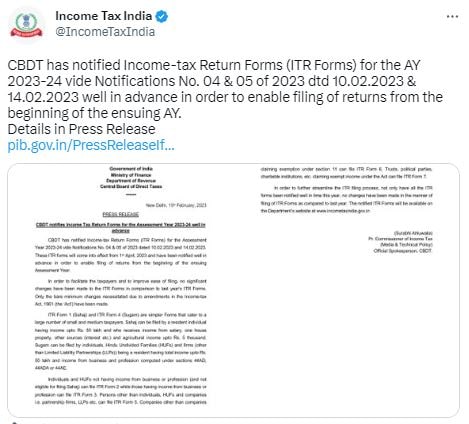 No major changes in ITR form
The Income Tax Department has not made any major changes in the ITR form as compared to last year. Only due to amendments in the Income Tax Act, 1961, some necessary changes have been made. The Central Board of Direct Taxes (CBDT) notified Income Tax Forms 1-6 on February 10 for citizens, professionals and companies for income earned in 2022-23.
The Income Tax Department had presented a proposal in November 2022, in which it was said that there would be a common form for all ITR forms except ITR. This was done to simplify income tax return filing and reduce the time taken in ITR filing for individual and non-business taxpayers. The new ITR form notified by the tax department includes a separate schedule for income from crypto and other virtual digital assets. The government had announced rules for taxation of crypto income in Budget 2022.