Elon Musk takes over Twitter, deletes ex girlfriend's account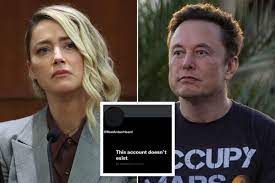 Ever since Elon Musk acquired Twitter, this social media platform has been in the news for one reason or the other. Hollywood celebrity Amber Heard has deleted her Twitter account after Musk became the CEO of Twitter. Amber Heard also made headlines for losing a defamation case against her ex-husband Johnny Depp. Because of this, he had to pay crores of rupees to Johnny Depp. Amber Heard's exit from Twitter matters because she was in a relationship with Elon Musk.
People are also reacting to Amber Heard's removal from Twitter. Twitter user 'That Umbrella Guy' shared a picture saying that Amber Heard has deleted her account. After knowing this, people are giving very funny reactions. One user wrote that very happy that she is taking care of herself. Several people had posted speculations that his Twitter handle might be deleted. It is not yet known why Amber Heard left Twitter. Nothing has been said about this officially from their side as well.
Amber Heard has deleted her Twitter. pic.twitter.com/yrFGpLirh9

— ThatUmbrellaGuy (@ThatUmbrella) November 1, 2022
Talking about her relationship with Johnny Depp, both of them met in the year 2010 during the shooting of 'The Rum Diaries'. Both got married in the year 2015, but separated after a year. Eventually in the year 2017, both of them got divorced. After Amber Heard and Johnny Depp's relationship ended, Amber's name was linked to Elon Musk. Both were dating each other. For the first time in the year 2016, things came out about them. It is said that the two did not make their relationship public. Amber and Allen are said to have dated each other for a year and parted ways in 2017. Although there were reports of the two being together again in 2018, this process lasted only a few months.
Amber Heard is not the only one who has said goodbye to the social media platform after Elon Musk bought Twitter, Hollywood celebrities like Ken Olin, Toni Braxton have also left Twitter.