Uttarakhand : Nainital High Court's tussle over shifting, then the mountain grounds coming in the way?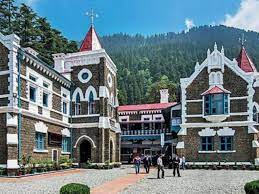 Ever since the talk of shifting the High Court was being discussed, some parties had come out in protest. Some lawyers of Nainital wanted Nainital in the High Court while lawyers and businessmen of Haldwani were pushing for it to be the gateway to Kumaon. The people of Ramnagar also had a demand for their place. Before the High Court was established in Nainital, there was already a demand to establish it in Ramnagar, Kalagarh or Haldwani. After the establishment of the High Court Nainital, the matter became calm, but various organizations continued to demand for setting up High Courts in Ramnagar, Haldwani and Kalagarh from time to time. Some time back, a demand arose from Garhwal that the High Court bench should be set up in Dehradun. After the exercise to shift the High Court from Nainital started a few months ago, businessmen, advocates and people of political organizations became vocal in Nainital. Some people were in favor of maintaining the High Court in Nainital, while some people started advocating to shift the High Court to save the tourism of Nainital from getting affected.
Discussions intensified in the last two months
In the last two months, along with the advocates of the Nainital High Court, representatives of many political parties, even one or two MLAs belonging to the BJP, were advocating not to shift the High Court from Nainital. Many business organizations and advocates of Haldwani were engaged in campaigning to shift the High Court to Haldwani to garner public support, whereas for the last two months, representatives of political organizations and advocates in Ramnagar were demanding to shift it to Ramnagar, considering Ramnagar as suitable for the High Court.
Arguments of people in favor of shifting from Nainital
The geographical situation was not being established in favor of the High Court.
Trouble caused by daily traffic jam
Problems faced by tourists due to overcrowding and jam
Living, eating and traveling in Nainital used to be expensive for the litigants.
Litigants are forced to cover extra time and distance of the mountain
Haldwani has the facility of rail, bus and air service for common and special litigants coming from remote places.
The pressure will reduce and tourism will develop.
Easy access to Haldwani for the residents of the entire state
Convenient city for judicial officers, staff and advocates
People's arguments against shifting from Nainital
Due to the formation of the High Court, people also got employment.
This is contrary to the concept of hill state.