The doors of Badrinath closed for winter, the Dham echoed with the cheers of Badri Vishal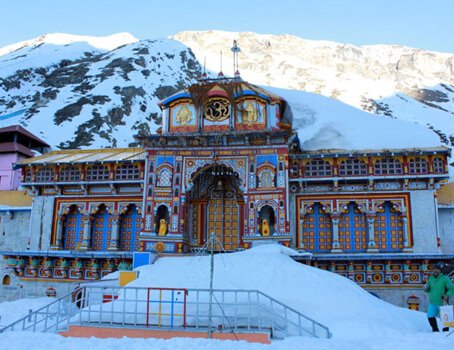 The doors of Badrinath Dham, the holy religious place of Hindus, have been closed at 3:35 for the winter season. The temple is beautifully decorated with colorful flowers. Before the closure of the doors, thousands of devotees reached Badrinath Dham, who witnessed the religious process of closing the doors. According to Bhuvan Chandra Uniyal, the former Dharmadhikari of Badrinath Dham, Lord Badri Vishal was covered with a woolen ghee blanket even before the doors were closed. This woolen ghee blanket has been prepared by the women of Mangal Dal of Mana village, which has been prepared by soaking it in ghee. This ghee blanket was offered to Lord Ishwari Prasad Namboodiri, the chief priest of the temple. Before this Rawal i.e. chief priest Ishwari Prasad Namboodari dressed as a woman and installed the idol of Goddess Lakshmi in the sanctum sanctorum of Badrinath Dham. With the closure of the doors of Badrinath Dham, the journey to Gangotri, Yamunotri, Kedarnath and Badrinath Dham in Uttarakhand also ended.
So many pilgrims have visited: This year more than 17.5 lakh pilgrims have visited Lord Badrinath. Uddhav and Kuber ji's doli will reach Bamani village after the doors of Badrinath are closed. While the throne of Shankaracharya ji will rest tonight at Rawal Niwas. The holy throne and the idol of Uddhav-Kuber ji will leave for Pandukeshwar on Sunday morning. Shankaracharya's throne will reach the Narasimha temple of Joshimath on November 21 and will remain here till winter.
In winter, from the month of December to the month of May, Badrinath Dham is wrapped in a white sheet of snow. From December to February, about 10 kms of snow accumulates from Dham to Hanuman Chatti. During this, along with some police personnel, the employees of the temple committee are deployed in Badrinath Dham. Due to the area connected to the China border, ITBP personnel are stationed in Mana village. When the doors are closed, the people of Bamani and Mana villages and other businessmen leave Badrinath Dham and go to the lower parts. During this time, except the soldiers of the army, no common person is allowed to go beyond Hanuman Chatti.