Attention Sanitary pads can also be fatal, study claims – cancer-causing chemicals in it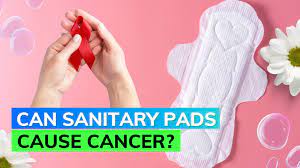 Important disclosures have been made in a study regarding the widely used sanitary napkins. Cancer-causing chemicals have been found in widely available sanitary pads in India, a new study has found. This is a shockingly worrying fact, especially considering that nearly three out of four adolescent women in India use sanitary napkins. Dr Amit, program coordinator of environmental NGO Toxics Link and one of the investigators, said it was shocking to find so many harmful chemicals in commonly available sanitary products. This includes toxic chemicals such as carcinogens, reproductive toxins, endocrine disruptors and allergens.
Phthalates and volatile organic compounds found in all samples
According to media reports, the study conducted by the NGO tested 10 brands of pads (including organic and inorganic) available across India and found the presence of phthalates and volatile organic compounds in all samples. Both pollutant chemicals have the potential to create cancer cells. ToxicsLink found that their concentration in some of the pads analyzed was three times higher than the European regulation standard. The most worrying thing in this case is that the chances of harmful chemicals being absorbed by the body through sanitary pads are very high. Dr Akanksha Mehrotra, program coordinator of Toxics Link, who was part of the study, said the vagina, as a mucous membrane, can secrete and absorb more chemicals than the skin.
India does not have strict standards on manufacture and use
Instead of adopting hygienic means of protection, Indian women are being asked to use sanitary pads. The presence of harmful chemicals including carcinogens is a big blow to the confidence of women. European countries have strict regulations but India does not have strict standards on the composition, manufacture and use of sanitary pads. Although these are subject to BIS standards, there is no specific prescription on chemicals.
The latest National Family Health Survey revealed that around 64 per cent of women aged 15-24 use sanitary pads. It has been estimated that more affluent societies have more pad use. Meanwhile, the Indian sanitary pads market is set to reach a value of $618.4 million in 2021. According to IMARC Group, this market is expected to reach US$1.2 billion by 2027.