Suspended teacher joined Bharat Jodo Yatra, was walking ahead with Rahul-Priyanka, suspension letter came from behind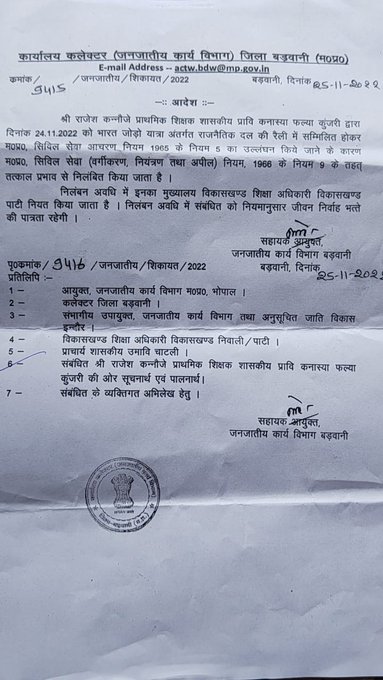 A teacher in Madhya Pradesh found it very costly to participate in the Bharat Jodo Yatra of the Congress party. The education department has suspended him. The incident is of Barwani district of Madhya Pradesh. On November 24, Rajesh Kannauje, the primary teacher of Government Primary School, Kunjari, participated in the Bharat Jodo Yatra passing through there.
Teacher's photo with Congress MP Rahul Gandhi is going viral. Rajesh told that Rahul Gandhi hugged him. Asked his name and introduction. He told that he often raises the issues of the society in front of the leaders of the ruling and opposition. He has nothing to do with any party politics.
'भारत जोड़ो यात्रा में शामिल होने की वजह से मुझे निलंबित किया गया': राजेश कनोजे, निलंबित शिक्षक#BharatJodaYatra #Congress #MadhyaPradesh pic.twitter.com/UewY9BvOrR

— News24 (@news24tvchannel) December 3, 2022
The department told the violation of these rules
Further, the teacher said in the media that he had gone to join the yatra after applying for leave. At the same time, the department has called it a violation of government rules in the suspension letter. The teacher has been suspended with immediate effect. According to information, Assistant Commissioner, Tribal Affairs Department, Barwani Nilesh Raghuvanshi has suspended Rajesh Kannauje, primary teacher of Government Primary School, Kunjari, with immediate effect. In the order, Rajesh Kannauje's participation in the political rally Bharat Jodo Yatra along with senior Congress leaders Rahul Gandhi and Priyanka Gandhi Vadra on November 24 has been considered a violation of the Civil Services Conduct Rules.