TV actress Veena Kapoor murdered, son thrashed her to death for a flat worth 12 crores, body thrown in river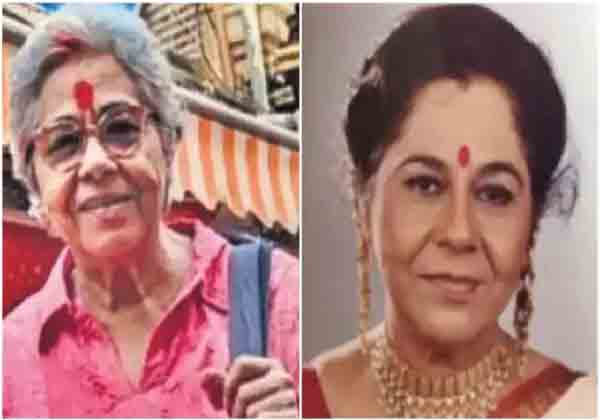 TV actress Veena Kapoor was beaten to death by her own son with a baseball bat. A case of her death was registered two days ago, but it was not clear that she is a TV actress. When his co-star Neelu Kohli disclosed the matter on Saturday, sensation spread in the entire TV industry.
Son killed and threw dead body 90 km away
Veena Kapoor's son Sachin Kapoor killed her in greed of property. Veena has a flat worth 12 crores in Mumbai's JVPT scheme, in which she used to live with her son. For this flat, the son killed him and threw the dead body in a river in the forest, 90 kilometers away from the house. A refrigerator box was used to take the dead body to the forest.
Veena's son Sachin Kapoor has been arrested. The servant who helped in the murder has also been arrested. The murder is estimated to have taken place between 5 and 6 December. Police have received CCTV footage of December 6, in which both the son and the servant are seen carrying his dead body.
Servant's help to hide the dead body
According to the police, Sachin Kapoor, Veena's younger son, after killing her, packed the dead body in a fridge cartoon, so that no one would suspect. The accused son took the help of a servant to keep the big box. The police have registered a case against the accused under sections 302, 201 and 34 of the IPC.
Elder son living in US had complained about missing
Veena Kapoor has two sons. Elder son lives in America. Since last week, he was not able to talk to his mother. The phone kept going off. After this he called the watchman of the building and asked. The watchman also said that he too had not seen him for some days. After this the son complained to the Juhu police that his mother was missing. After this the police started the investigation. In the CCTV footage during investigation, Sachin and his servant Lalu were seen carrying a big box.
Neelu Kohli remembered the actress
Actually 2 days back celebrity photographer Viral Bhayani had shared a post related to the murder of a woman, which has now been confirmed by actress Neelu Kohli, that woman was none other than Veena Kapoor. Sharing Viral's post, Neelu wrote, 'Veena ji you deserved better than this. My heart is broken with this news, posting this for you. what to say I have no words today. I hope you are finally resting in peace after so many years of struggle.
22 years old house dispute
During a conversation with Dainik Bhaskar's Umesh Kumar Upadhyay, actress Neelu Kohli told that the dispute at Veena's house is very old. Before the son, there was a difference of opinion with the husband regarding this house. This case is about 22 years old, Veena ji had to go around the court even during the shooting. Veena was divorced with her husband due to domestic and some other issues, yet he was living with her. Her husband had passed away during Kovid.
Neelu ji further said, 'Yesterday his elder son came back from US. Only after his arrival, the body was handed over to the son and Veena ji's funeral took place, we reached Shastri Nagar in Santacruz yesterday for her last rites.
Who was actress Veena Kapoor?
Veena Kapoor was a well-known name in the television industry. She has worked in TV shows like Meri Bhabhi, Mitter Pyaare Nu Haal Muridan Da Kehna, Dal: The Gang and Bandhan Phero Ke. He has also worked with Neelu Kohli in many TV shows.