Uttarakhand : CM and Energy Minister inaugurated water sports championship in Tehri, gave this gift to the players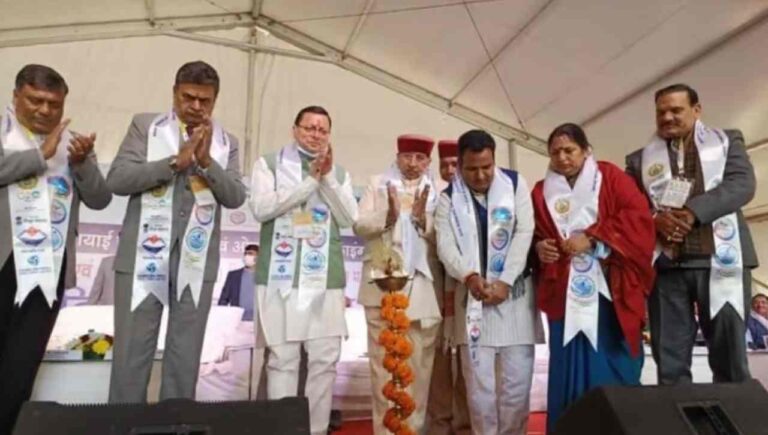 Tourists will be able to enjoy water sports in the world famous Tehri Lake. The three-day water sports Asian Championship has started in the lake from Wednesday. Chief Minister Pushkar Singh Dhami and Union Energy Minister RK Singh inaugurated the championship. During this, the Union Energy Minister announced the opening of an international level kayaking and canoeing training center near Tehri Lake. He talked about increasing the travel time from Tehri Dam Top by one hour. Said that THDC would adopt Kayaking and Canoeing sports. Along with this, the Ministry of Energy will provide all possible help to Uttarakhand. CM Pushkar Singh Dhami said that Tehri Lake is becoming a new adventure destination. The tunnel survey is being done from Dehradun to Tehri.
Players will be benefited by the new sports policy. Sports quota will be prescribed in the job. Rajya Sabha MP Naresh Bansal, THDC CMD RK Vishnoi, MLA Kishore Upadhyay, Devprayag MLA Vinod Kandari, Shakti Lal Shah, Vikram Singh Negi etc were present on the occasion.
260 national and international level players from all over the country have reached Tehri for the Fourth Ranking and Open Canoe Sprint Senior Men's and Women's Championship. The ranking of these players will be decided in Tehri itself. It will also qualify for the 2022-23 Olympics and Asian Games.
Explain that for the first time a national level competition is being organized in Tehri Lake on the initiative of Indian Olympic Association, Uttarakhand Olympic Association and Uttarakhand Kayaking and Canoeing Association (UKCA) with the technical support of THDC and ITBP. Dr. DK Singh, General Secretary of Uttarakhand Olympic Association told that athletes from the states of Army, BEG, Delhi, Himachal, Haryana, Madhya Pradesh, Punjab, Rajasthan, UP, Kerala, Tripura, Indian Navy, Uttarakhand, Bihar have reached here.
Will show stamina in K-2, K-4, K-1 and C-2, C-4 and C-K in Tehri Lake. Here K stands for Kayaking while C stands for Canoeing. Balloons and ropes have been put in the lake after preparing a race course of 1000 meters, 500 meters and 200 meters. For the first time, a demo of canoe polo will be given in the lake by the Uttarakhand Kayaking and Canoeing Association in front of the CM and the Union Minister. In canoe polo, players use kayaks as polos on the lake.
Nelo boat used during international games will be used in Tehri water sports in the lake of Tehri dam. Nello is a Portuguese company. Which designs and manufactures kayaks, canoes for racing, touring, fitness, sea-racing, paracanoe, surfsurfy and slalom. Kayaking and canoeing are done from this boat in all international sports including the Olympics.
International player, President of Kayaking Federation and Director of Tehri Water Sports Cup, Bilkis Mir said that Army players Ajit, ITBP's Sonika Devi, Chin Chin Singh, Shalu and many other renowned players will be seen competing in Tehri lake.