Uttar Pradesh / Kanpur : Forced to get married, the girls beat them with slippers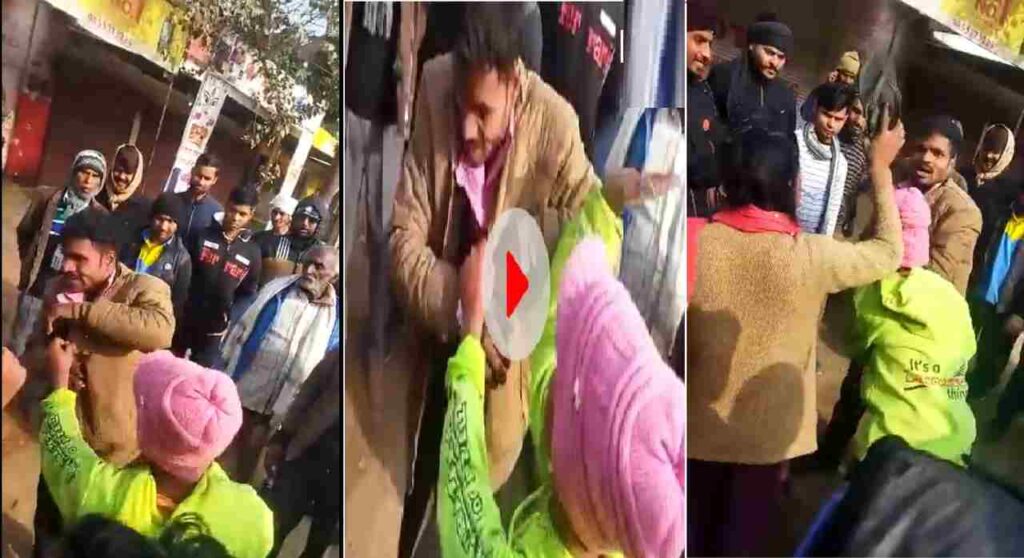 In Kanpur (Kanpur) countryside, a young man who was troubling for several days was beaten up with kicks and shoes by the local girls. It is being told that he was pressurizing the girls of the town to get married for a month. Now the video of beating with slippers has gone viral on social media. This video seems to be of a market where many people are gathered in which two girls are kicking and showering shoes on them. Some people are making videos while some are being heard giving advice to catch him and take him to the police station.
#Watch: कानपुर देहात में कई दिनों से परेशान कर रहे एक युवक की स्थानीय लड़कियों ने लात-जूते से पिटाई कर दी. बताया जा रहा है कि वह एक महीने से कस्बे की लड़कियों पर शादी का दबाव बना रहा था. अब सोशल मीडिया पर चप्पल से पिटाई का वीडियो वायरल हुआ है. pic.twitter.com/Lt9sU4ZkPR

— Avinash jha (@chikki_jha) January 3, 2023
In a short while he is taken in a tempo in which two girls are also present and beat him all the way. This is the case of Sikandra town of Kanpur Dehat. In the viral video, the manly youth appeals to release him. He says, 'You kill us properly, but listen to one of the 10'. It is being told that the police have arrested this young man. At the same time, a victim told that, 'The young man was pressurizing her to get married for a month by putting wrong photos. He was telling us that the wife left him after a month of marriage.
Similar video went viral in MP
Earlier, a video had gone viral in Khandwa, Madhya Pradesh, in which a young woman was seen beating a young man with slippers. According to the viral video, the young man used to chase girls everyday, because of which the girl got fed up and beat him up. When the girl was beating the young man, at the same time someone made a video of it and made it viral. A traffic police personnel was also seen in the viral video, in which he cooled the anger of the people present there and called the police and sent the naughty youth to the police station.