Uttarakhand : Congress making irresponsible comments on recruitment matters, misleading the youth – Manveer Chauhan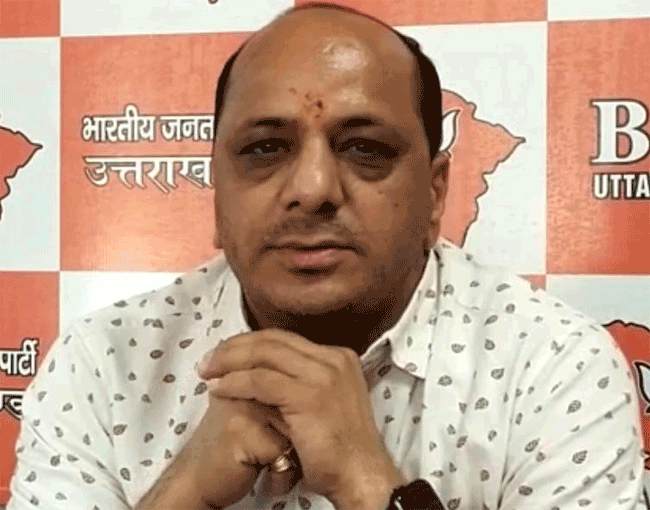 Accusing the Congress of making irresponsible and contradictory remarks in assembly and other appointment cases, the BJP said that it is trying to give political color by misleading the youth. Party state media in-charge Manveer Chauhan sarcastically said that Congress leaders are misleading them by making political statements on the issue of misinformation and unemployment. He said, had the Congressmen observed the tenure of their previous governments, they would have been aware of the reality. Congress is not deterring from politics even on this serious and sensitive issue.
Talking to the media, Chouhan said that the Congress is just spreading lies. Whatever action was taken regarding the appointments in the Vidhan Sabha, it was done impartially without observing the time limit. This includes the previous Congress and the current BJP tenure.
It is clear that favoritism is done for the purpose of benefiting someone and whether it is appointment after 2016 or before, both the periods include the tenure of both the party's governments. Bias is not possible in both cases whether it is the decision of the temporary workers of the Vidhansabha removed at present and the decision of taking legal opinion in the permanent appointments before that. Because favoritism is possible only when the appointments made in one's tenure are canceled and the appointments made in the other's tenure are given protection.
Chouhan alleged that the Congress leaders, on the one hand, are demanding the cancellation of all assembly appointments after the formation of the state, and on the other, are trying to mislead the sacked employees by giving them false support by sitting on a dharna. Everyone is aware of the obligation to take legal opinion for the removal of permanent employees. But the Congressmen are deliberately pretending to be ignorant. Those who nurtured corruption in the recruitment process while in the government and kept silence on the proceedings, now the accused of corruption that flourished during that period are being sent behind bars, then the Congress is beating the drum of honesty instead of repentance.
The aim of the government is to do justice to the unemployed youth with fairness and transparency, while the Congress party, having nurtured the vine of corruption, is now behaving as if it is ignorant. Although in the past the head of the then government had cleared his plans by talking about closing his eyes on corruption, but now he has become a preacher which the public will not accept.