Uttarakhand / Dehradun: Cancer Awareness Campaign by "Abhyudaya Vatsalyam" under Swasth Bharat Mission
On the occasion of World Cancer Day, "Abhyudaya Vatsalyam" organization organized de-addiction campaign and cancer awareness campaign with the aim of Healthy India campaign from Government Inter College, Nalapani, Dehradun. The program was inaugurated by lighting the lamp, Chief Guest Dr. Manoj Kumar Pant, (Additional Chief Executive Officer CPPGG, and special guests Dr. Ankit Batra, Dr. Meera Rawat, Dr. Krishna Bhatt, Dr. Vimlesh Joshi, Dr. Ratna Tripathi, Yoga Guru Shashikant Dubey, President of the organization Gargi Mishra, all the teachers of the school, Acharya Shashikant Dubey etc. were present.
Dr. Gargi Mishra, President and Director of "Abhyudaya Vatsalyam" Sanstha, welcomed the chief guest, distinguished guests, principal of the school, teachers, support staff, dear students and appreciated them for participating enthusiastically in the program. Expressing gratitude and wishing the bright future of the students, the children were administered the Panch Shapath…..
1- We all will always give our best contribution to make the state a leading state.
2- We will not use any kind of intoxicants and will warn others as much as possible.
3- Will always contribute in cleanliness, water conservation, environment protection.
4- We all will always follow the traffic rules and be ready to help others.
5- By our actions and achievements, we will increase the respect of our parents, teachers and our country, Mother Earth.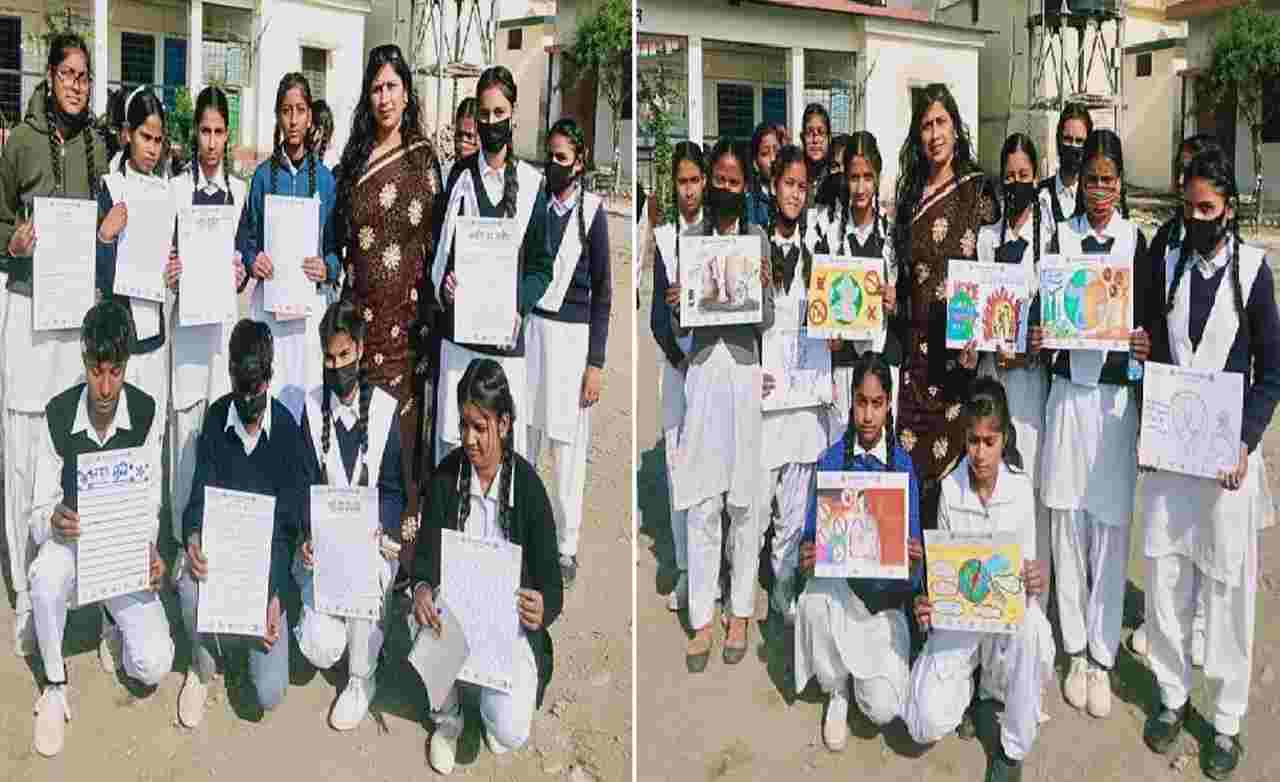 The senior doctors present in the program gave detailed information to the children on the side effects of intoxication and ways to avoid it.
Yog Guru told the students how to stay healthy through yoga practice, meditation, increase concentration in studies, increase memory capacity, control stress during exams and improve exam results. Acharya Shashikant Dubey told the ways to become the best citizen, to make the best contribution towards the society, to increase self-confidence.
Essay competition and painting competition was organized by the organization for the purpose of Swasth Bharat Abhiyan, de-addiction and cancer awareness campaign. The students participated enthusiastically. Shivani Chauhan (Class 12) stood first in essay writing competition, Alok Nath Verma (Class 09) stood second, Bhavna (Class 09) stood third, Sonia Pal (Class 09), Shamsher (Class 09) selected for special consolation prize. . Kajal (Class 10) stood first in the painting competition, Sachin Kashyap (Class 12) stood second, Manit Kumar (Class 12) stood third and Jyoti (Class 09) and Aliya Parveen (Class 09) got special consolation prizes. Elected.
The program was presided over by Dr. JP Tiwari, Principal of the school and Dr. Ashok Kumar Mishra "Kshitij", the founder of Abhyudaya Vatsalyam Sanstha, conducted the programme.