Japanese girl, who was a victim of misbehavior on Holi, told her condition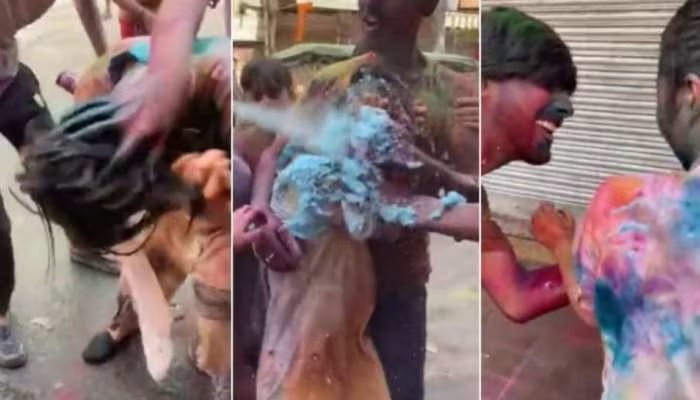 On the occasion of Holi, a case of misbehavior with a Japanese girl (Delhi Japanese Girl Molestation) came to the fore in Paharganj area of Delhi. A video went viral on social media in which some boys were seen misbehaving with the girl. Now the Japanese girl has posted a post on the social media platform Twitter regarding this incident. In her tweet, the girl told about the whole incident and said, 'Loves India and believes that Holi is a good festival.'
Please inform that the viral video surfaced on Friday. Then the police arrested three accused including a juvenile in connection with this incident. As the video went viral, the Japanese girl said that she had already left India and reached Bangladesh and would explain what happened to her in her social media posts.
The girl posted the video on social media
On Saturday, the Japanese girl posted and said that she was the first to post the video of the incident, but when the video started going viral, she got scared and then deleted it. The girl wrote in Japanese, 'We sincerely apologize to those who were hurt by the video.' The Japanese girl wrote in her post that she had heard that it is dangerous for women to go out during the day on Holi. She was with 35 of her friends when this incident happened. He said that the viral video was mistakenly made by a Japanese friend of his. He did not intend to tell anything negative about Holi. Expressing confidence in the action of the police, the woman said that she loves everything about India and has visited India many times.
In the viral video, a Japanese girl is seen playing Holi. During this, people are seen touching him and forcefully applying color on his face. Then one of the boys is seen cracking an egg on his head. The girl is seen saying 'bye', 'bye' to get out of the situation. Not only this, in the viral clip, the girl is also seen slapping a man. At present, the police say that action has been started in this matter. However, further investigation will be decided on the basis of the complaint of the girl.