INSIDE VIDEO of Parineeti Chopra and Raghav Chadha's sangeet ceremony goes viral, Navraj Hans graces the occasion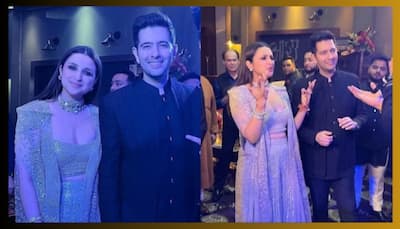 Today is a special day for Bollywood actress Parineeti Chopra and Aam Aadmi Party leader Raghav Chadha. Parineeti Raghav will tie the knot today and complete preparations have been made for it. The wedding rituals will also start at The Leela Palace in Udaipur from 1 o'clock today. Before the wedding, photos and videos of pre-wedding functions are coming out. Meanwhile, the inside video of the couple's sangeet ceremony is going viral.
Navraj Hans sets the tone An inside video of Parineeti Raghav's sangeet ceremony has surfaced on social media. Singer Navraj Hans is seen performing live in this video. It is seen in the video that there is an atmosphere of complete fun and in the video Navraj is seen singing, 'Dil Chori Sada Ho Gaya' and 'Gud Naal Ishq Meetha' etc. During this time all the guests are also seen enjoying a lot. This video has been shared by Hindustan Times on social media.
Parineeti Raghav's Love Story It is said that Parineeti and Raghav know each other since college days. Parineeti and Raghav met for the first time during their college days, when both of them were awarded the India UK Outstanding Achievers Award in England. However, their loving friendship started in the year 2022. When Parineeti was busy shooting for the film Chamkila in Punjab, Raghav met her. Gradually their meetings started increasing and when both of them started being seen together in Mumbai, the news of their relationship gained momentum. However, both of them always seemed to avoid the question of relationship.