Rajasthan / Bharatpur: In the kitchen where hundreds of people are eating food every day, the plates of the pig are licking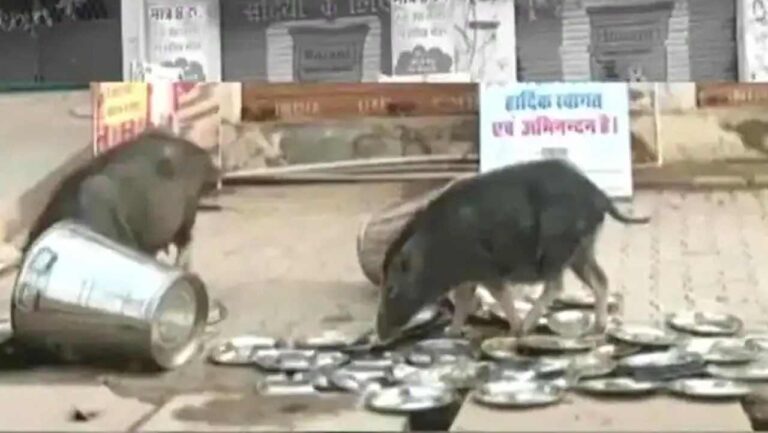 In Rajasthan, a case of great negligence has come to the fore in the scheme of feeding the poor for ₹ 8. The food that the poor should have got. Pigs are licking him on the street. When the sensational video of this incident went viral on social media, now the opposition has also attacked it. The case is of Bharatpur district of the state. In this, negligence on the part of the collector is coming to the fore.
राजस्थान के भरतपुर में हैरान करना वाला वीडियो। इंदिरा रसोई के बर्तनों में मुंह मरते नजर आए सुअर, सूअरो के थाली चाटने का वीडियो वायरल#indirarasoi #rasoimesuar #pigs #IndiraGandhi @INCIndia @BJP4India @INCRajasthan @BJP4Rajasthan #instagramdown #Viral pic.twitter.com/vXjBtuCsja

— Yash Sharma (@YashSharma0395) November 2, 2022
This error was seen in the plan of Indira Rasoi
This incident is of Indira Rasoi, operated in front of Maharani Shri Jaya College in Bharatpur city. When the video went viral, the officers also reached the spot and after going there, the investigation came to the fore that she was negligent. After this, now for three days, the organization operating the Indira Rasoi will have to answer. The negligence of Bharatpur Collector Alok Ranjan has come to the fore in this whole matter. Alok Ranjan issued orders to run the canteen in this Indira School. After which tea and samosas are also available in the canteen for ₹ 10. At the same time, the Additional District Collector says that the license of the institution has been canceled.
Opposition opened front
However, the opposition Bharatiya Janata Party has opened a front in this whole matter. Those who say that the utensils in which poor people eat food. Pigs are licking them. This is playing with poor people which will not be tolerated under any circumstances. Union Minister Gajendra Singh Shekhawat has also taken a dig at the Congress government of the state regarding this whole matter. At the same time, the Chief Minister of the state Ashok Gehlot is so sensitive about this scheme that he himself eats food by going to Indira Rasoi to check the quality of food. Along with this, he sometimes instructs officials and ministers to eat food in these kitchens once a month.