Here people are filling LPG in plastic bags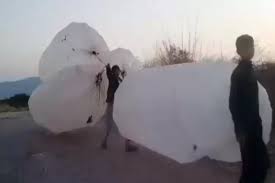 Burdened by a creaking economy, the Pakistani government has failed to provide basic amenities to its people. Now the people of Pakistan are forced to use plastic bags to meet their LPG (cooking gas) needs. Pakistanis in Khyber Pakhtunkhwa province are using plastic bags to store LPG as the stock of LPG cylinders dwindles. According to reports, people in Khyber Pakhtunkhwa's Karak district have not been given gas connections since 2007, while Hangu town has been deprived of gas connections for the past two years as the pipeline carrying the gas has not been repaired since it broke.
#Pakistan With no natural gas supply to homes, residents of Karak, carry gas for their household needs in plastic bags. They are literally moving bombs. Karak has huge estimated reserves of oil and gas, while to the #Karak people legal gas connections are not provided since 2007. pic.twitter.com/FMphcH6nUa

— Ghulam Abbas Shah (@ghulamabbasshah) December 29, 2022
How to store gas in plastic bags
With the help of a compressor, the gas seller tightly closes the plastic bag with the nozzle and valve and then fills the LPG in the plastic bag. It takes about an hour to fill three to four kg of gas in a plastic bag. According to media reports, it is ironical that in 2020, about 85 barrels of oil and 64,967 million cubic feet of gas were extracted from the field of Kyber Pakhtunkhwa. Despite this, people are forced to buy gas in plastic bags for 500 to 900 rupees, as the cost of a commercial gas cylinder is around 10,000 Pakistani rupees.
Expert said – a big accident can happen any day
Pakistani journalist Ghulam Abbas Shah has shared a video on social media related to people carrying cooking gas in plastic bags. Also, he has written that people who carry gas in plastic bags are no less than a walking bomb. According to a DW report, the Pakistan Institute of Medical Sciences' burn care center receives eight patients injured in blasts caused by the use of these bags daily. According to the medical officer of the center, Dr. Kurtulain, if gas continues to be used indiscriminately by filling it in plastic bags, then this figure could be huge someday. "Most women are injured by cooking stove explosions, while indoor gas leak explosions also cause burn injuries," he said.