Indecency with women in the name of Holi, watching the video people said, 'The festival is infamous because of such'
Don't feel bad it's Holi! By saying this, if someone applies colors with love, then one gets the pleasure of playing Holi. But the same thing also becomes an excuse for some people to indulge in indecency and indecency. A video viral on social media is an example of this. In this, some people are seen taking out their frustration on women on the pretext of playing Holi. The women victims seen in the video seem to be Muslim. Many people have alleged that the accused youths have crossed all the limits of absurdity because of this. Although the youths who are making hue and cry are seen behaving badly with the person passing by.
What's in the video?
This video is being told of Bijnor in Uttar Pradesh. In this, some youths are seen celebrating Holi on the road. Two women pass by there. Seeing them, the youths get furious and start hurling balloons at the women. Seeing the manner in which they are targeting women, it is clear that they are only venting their anger in the name of playing Holi. By sharing this video on Twitter and Instagram, many people have expressed anger over the attitude of the youth. Posting this, Twitter user Uved Muazzam wrote,
"What kind of atmosphere has been created… Now some chaotic elements cannot even celebrate their festivals without inciting and troubling Muslims?"
कैसा माहौल बना लिया है
अब बगैर मुसलमानों को उकसाये और परेशान किये अपना त्योहार भी नहीं मना सकते कुछ अराजक तत्व ??pic.twitter.com/BtH3ot1OFz

— Uved Muazzam 🇮🇳 (@mohd_uved) March 9, 2023
Many people claim that this video was first posted from an Instagram account named mr__.prashant. His caption read,
"Wishing everyone a very Happy Holi."
The profanity seen in the video has been deleted after it went viral. But now its screenshot is going viral.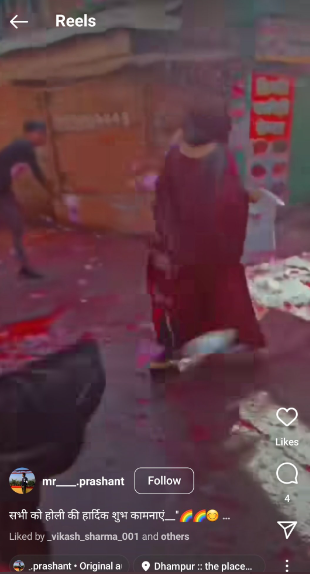 Uwaid Muazzam told that the video is from Bijnor. He tagged the Bijnor police and demanded legal action against the accused youths to teach them a lesson.
मुस्लिम मां बहनों पर जबरन रंग डालकर इस वीडियो बनाने वाले की डिटेल्स मिल गयी हैं ।

नाम : प्रशांत
पता : धामपुर शहर , जिला बिजनौर
इंस्टाग्राम प्रोफाइल https://t.co/ZJEVyWHMV8

कृपया इस उपद्रवी को कानूनन सबक सिखाने के लिए RT कर @bijnorpolice तक पहुंचाने में मदद करें । https://t.co/rKxiWMQEVc

— Uved Muazzam 🇮🇳 (@mohd_uved) March 9, 2023
Another user Zakir Ali Tyagi said, "The video is of Bhagat Singh Chauraha in Dhampur town of Bijnor, where a mother and daughter wearing burqas were forcibly harassed while playing Holi. Colored balloons were continuously thrown at them. This video was posted by a young man named Prashant "Happy Holi Posted on Instagram with the caption.
यह वीडियो प्रशांत नामक नामक युवक ने " होली की शुभकामनाएं"कैप्शन के साथ इंस्टाग्राम पर पोस्ट की गई है, इस वीडियो की मैंने जांच की तो पाया कि ये धामपुर (बिजनौर) के भगत सिंह चौराहे की है जहां मज़बूरो को जानबूझकर परेशान किया गया और ज़बरन रंग से नहलाया गया है! pic.twitter.com/i2Kw6i2Zco

— Zakir Ali Tyagi (@ZakirAliTyagi) March 9, 2023
In the video posted by Zakir, the youth can be seen doing similar nonsense with every person passing through the intersection. When this information reached the Bijnor police, it replied to Uved Muazzam's tweet and assured action. Police wrote, 'Station in-charge Dhampur and cyber cell have been directed to take necessary action after investigation.'
थाना प्रभारी धामपुर व साइबर सेल को जांच कर आवश्यक कार्यवाही हेतु निर्देशित किया गया है।

— Bijnor Police (@bijnorpolice) March 10, 2023
However, no arrest has been reported so far.
Meanwhile, people have strongly criticized those who create ruckus in the name of Holi. A Twitter user named Shivam Pandey wrote, "These would be the women of someone's house. Someone's mother-sister, but the rascals and illiterates are showing their values. Those who do such work should be found by the administration and sent to jail."
किसी के घर की होंगी ये किसी की मां होगी बहन होगी, लेकीन दरिंदे और जाहिल घर के नमूने अपने संस्कारों का परिचय दे रहे हैं। इस तरह के कृत्य करने वालो को प्रशासन को ढूंढ कर जेल भेजना चाहिए। https://t.co/6R5imLs2SF

— Shivam Pandey (@Shivam_Inc_) March 9, 2023
Rajesh Sahu writes, This is called bad manners. But I know, people will defend it in the name of religion. Just think what would have happened if these women were from your house?
इसे ही बत्तमीजी कहते हैं।

लेकिन मुझे पता है, धर्म के नाम पर अभी लोग इसे भी डिफेंड करेगा। सिर्फ इतना सोचकर देखिएगा, यहां महिला आपके घर की होती तब क्या होता?pic.twitter.com/DemcsY6R3g

— Rajesh Sahu (@askrajeshsahu) March 9, 2023
Many people have said that Holi is a festival of colors and brotherhood, but it is because of such people that this festival gets a bad name.