Rajasthan: If you are a servant, then be like this! MLA roamed barefoot for 1 year to fulfill his promise to public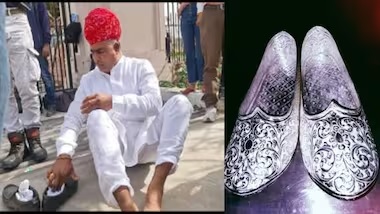 These shoes are for Congress leader of Barmer district of Rajasthan. This leader is MLA from Balotra seat and his name is Madan Prajapat. The population of Balotra is more than 20 lakhs. During his election campaign, he had told his people about making Balotra a district and had claimed that if Chief Minister Ashok Gehlot did not make Balotra a district, he would remain barefoot for the rest of his life. Chief Minister Ashok Gehlot did not listen to his demand for 3 years. He gave up wearing shoes or slippers last year. After that he started going in public barefoot.
Tears came out of the MLA's eyes as soon as CM was announced
Yesterday, Chief Minister Ashok Gehlot made 19 May districts in Rajasthan. The name of Balotra is also included in these districts. As soon as Chief Minister Ashok Gehlot announced the creation of Balotra district, the eyes of the people of Balotra and MLA Madan Prajapat became moist. Strong fireworks were done last night and today, on behalf of the people of Balotra, silver shoes were presented to their MLA Madan Prajapat. Raju Bhai, a jeweler from Balotra and his associates together presented these shoes to Madan Prajapat. Their weight is said to be about 1 kg. Madan Prajapat got emotional after getting new shoes.
Legislators walk barefoot in Bharat Jodo Yatra with Rahul Gandhi
It is worth mentioning that during the last one year, MLA Madan Prajapat did not wear shoes or chappals even in his house, whether he was coming to the Vidhansabha in Jaipur or going to his district for some work. 2 months ago during Bharat Jodo Yatra also, MLA Madan Prajapat walked barefoot along with Rahul Gandhi and other leaders. When Rahul Gandhi also asked the reason for being barefoot, he had said that he will not wear shoes until the promise made to the public is not fulfilled.
Balotra's name is famous all over Asia
After all, with the help of Chief Minister Ashok Gehlot, the MLA has fulfilled his promise to the public and now the public has gifted him silver shoes. MLA Madan Prajapat said that now if the government repeats again, they will give another big gift to the public. It is noteworthy that Balotra's name is famous all over Asia. In fact, Asia's biggest refinery is set up in Balotra.