Hey brown British, why do you run bulldozers on Gandhi's organization secretly like cowards?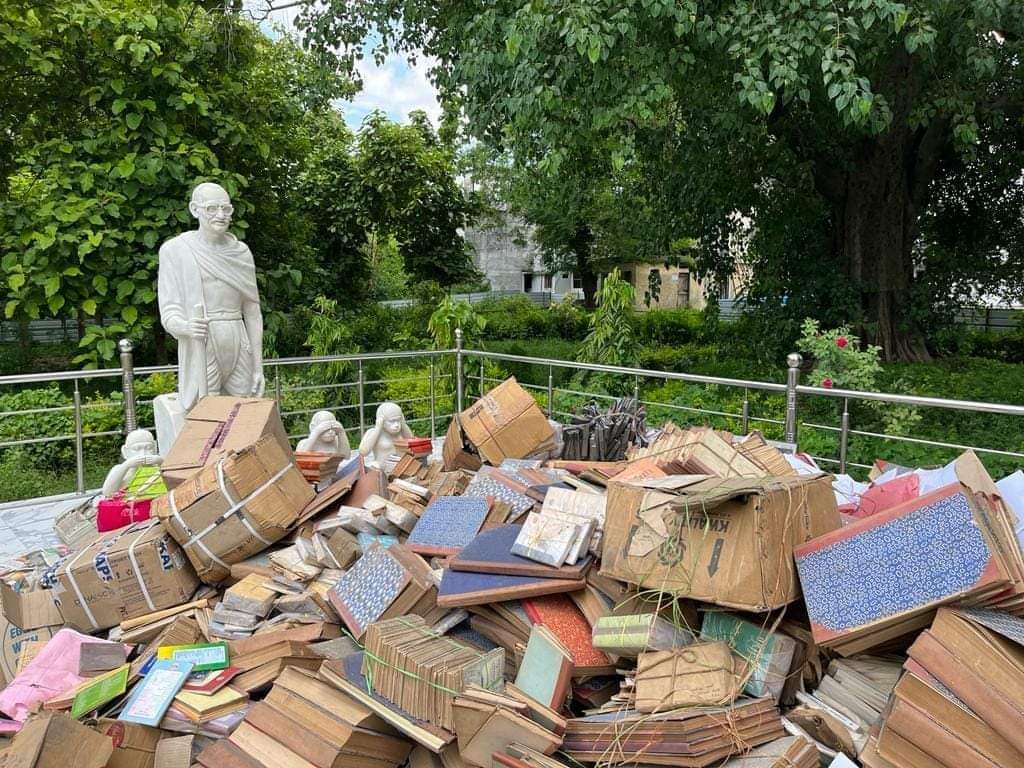 Dare and come out like a real dictator. Make it known that now there will be no organization in the name of Gandhi in the country.
Today a bulldozer has been sent to the premises of Gandhi Vidya Sansthan and Sarva Seva Sangh located in Banaras. Hundreds of policemen have been deployed in the campus and made a cantonment. The idol was thrown away. The library and residence have been evacuated. Books and belongings have been picked up and thrown out. There are reports that the Sarva Seva Sangh complex will be demolished by night.
This campus is also the legacy of Dr. Rajendra Prasad, Vinoba Bhave and Jayaprakash Narayan. By collecting money from these people, it was built for propagating the ideas of Mahatma Gandhi, on which these terrorists are getting bulldozers run. It is being said that this complex is an encroachment on the railway land.
Somebody ask these traitors whether Dr. Rajendra Prasad, Vinoba Bhave and Jayaprakash Narayan etc. were all encroachers?
Those who liberated this country, have they become encroachers?
The first President of independent India worked hard to build that building, so who gave that land to the Railways?
Not the same British whom you used to do slavery?
Whose spy were you?
Going into history, are you taking revenge of the British from Gandhi?
When will you get out of their slavery?
The day this public will go down in history and give you an account, that day you will not find any place to hide your face. The real thing you cannot accept is that you are annoyed with Gandhi and you think that by destroying some of his ashrams, you will destroy Gandhi. Every dictator thinks like this. You think so because you are a coward.
You do not have that self-power and that moral force which makes Gandhi a Mahatma. The moral force with which Gandhi stood before the world's biggest and terrorist empire, bring that moral force and destroy Gandhi. Will you be able to do it?
you can not. you coward. We are familiar with your dog instinct. You have been running away biting the Mahatma's tail for a hundred years. You have been doing the same for the last nine years. You offer flowers at Rajghat, create an IT cell and abuse Gandhi, build a temple for Gandhi's killer, but show the world that you believe in Gandhi a lot. know why? because you're a coward
If you have guts then declare that it will be treason to take Gandhi's name in India now! Whoever takes Gandhi's name, his tongue should be cut off. Cut off the hands of those who wrote articles on Gandhi. Whoever bows his head before Gandhi, his head should be cut off. Just now they were offering flowers to Gandhi after going to America and after returning they have sent bulldozers to the Sarva Seva Sangh of Banaras.
You dig this whole world and make it hell, still if humanity exists, then the idea named Gandhi will exist.
I believe in the collective consciousness of this country. If not today then tomorrow, even after losing everything, this mind will wake up. Till then create as much havoc as you want. This resentment and this jealousy towards Gandhi is smeared like soot on your face, you can never get rid of it.
What about the rest of Gandhi. He was Mohandas. In the eyes of Tagore he became Mahatma, in the eyes of Netaji Subhash he became Radhatrapita, in the eyes of public he became Bapu, in the eyes of the world he became a global peace ambassador, he will forgive you for all your misdeeds towards him. You don't know who you are fighting with. you are very poor you are spitting on the sun Shame on you.