Uttar Pradesh / Moradabad : YouTuber reunites 70-year-old rickshaw puller with family, left home at the age of 7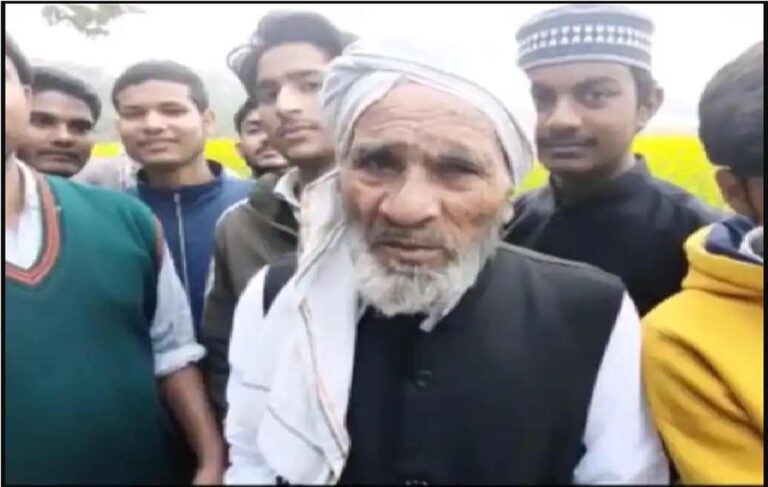 In Moradabad, Uttar Pradesh, at the age of 17, a 70-year-old man, who had left home after being angry with his family members, was recognized by his family members through social media and brought him home after 52 years of persuasion. Since then there is an atmosphere of happiness in the village and people are coming to meet these elders. Now the family members are giving blessings to the YouTuber who helped an old man driving a rickshaw outside the Delhi railway station and after getting information about his family from him made it viral on social media and this video reached Tevar Khas village of Moradabad. When the old man's nephew saw and told the family members, the family members reached Delhi in search of the old man and got success and brought the old man who had left home 52 years ago to his home in Moradabad.
What is the whole matter?
Delhi's YouTuber Mushahid Khan shared a video a few days ago from his social media account, in which Mushahid Khan shared the story of an old man's hard work, in which the old man was driving a rickshaw on the road at the age of 70. Was making his living. Seeing the old man working hard, YouTuber Mushahid Khan gave 2500 with his daughter to help the old rickshaw puller, after which Mushahid informed the old man about the hard work, then the old man shared the shocking information with Mushahid. done.
It was told by Zahid that 52 years ago, at the age of 17, he had left home after getting angry with his family, never went back to his village Tevar Khas, this video went viral on social media. When the viral video reached Zahid's home in Tevar Khas village in Kundarki, Moradabad, Zahid's family reached Delhi along with many of his family members to search for Salman. After 2 days of hard work, Zahid met his family members while driving a rickshaw in Delhi, then the family members convinced the angry old man Zahid and brought him back to Tevar Khas village of Kundarki.
In 1970, Zahid left his home at the age of 17 due to a minor argument in the family and left home in search of work. Zahid spent 52 years of his life on the streets working hard, never spread his hand in front of anyone in 52 years, spent 52 years of his life on the streets while working hard, during this he sometimes crossed the Nepal border, sometimes Bengal, Bihar kept roaming and finally made Delhi his home, but Usman never married because he was afraid that his wife or future children might ask him about his original residence and family. That's why he did not marry and kept on living by pulling a rickshaw.