Uttar Pradesh / Bijnor: How did the tractor start without the driver? People lost in thought, created havoc by entering the showroom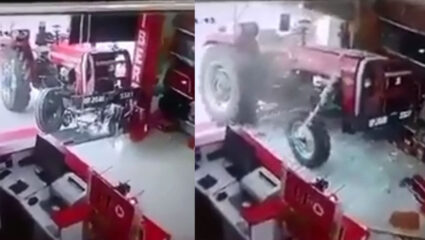 A shocking video is going viral on social media. In which a tractor standing near a shoe showroom suddenly started and started moving. The surprising thing is that there was no driver on that tractor. Apart from this, neither was it started by anyone. People are thinking that when there was no one in the tractor then how did it start all of a sudden?
Suddenly the tractor started, entered the showroom
This viral video is from Bijnor where this tractor was standing outside a shoe showroom. Which started suddenly and broke the glass of the shoe showroom and entered inside and created havoc. The entire incident was captured in the CCTV camera installed in the shoe showroom.
बिना ड्राइवर के चलने लगा ट्रैक्टर…

यूपी के बिजनौर में सड़क के किनारे खड़ा ट्रैक्टर अचनाक से अपने आप स्टार्ट हो जाता है। बिना ड्राइवर के ट्रैक्टर चलकर जूते के शोरूम में शीशा तोड़कर घुस जाता है। pic.twitter.com/KKTnJe7vs8

— Rahul Ahir (@rahulahir) March 1, 2023
The boy sitting at the counter runs for his life
It is seen in the video that a boy is standing at the counter of the showroom, only then the tractor standing at some distance outside the showroom suddenly starts and starts entering the showroom made of glass. Only then the boy standing at the counter sees the whole scene and dies. Runs out after saving.
The tractor enters the showroom and then…..
Without seeing the driver, this tractor crushes the bike and cycle parked in front of the shoe showroom, breaks the glass pane and enters the showroom and creates havoc. However, a person emerges from inside the shop and reaches near the tractor and manages to stop it by applying brakes. As soon as the tractor entered the showroom, a crowd of people gathered there and this incident spread sensation in the entire area.
Know where this tractor came from
The incident took place in a shoe showroom in front of Kotwali City Police Station in Bijnor. At the same time the resolution day was going on in the police station. In which many people also came by tractor to participate. Kishan Kumar's man had parked his tractor in front of the shoe showroom and went to the police station to attend Samadhan Divas.